Kerala Gods Own Country
Kerala is a most visited tourist destination in India, located at the south-west part of India. Though, India has several magnificent places to visit but Kerala has something different that can be rarely found in any other part of India. Kerala is called as a God's own country where you can see numerous incredible natural beauties in every corner of the state. The magnetic charm of Kerala includes various picturesque views of natural beauty, outstanding beaches, amazing hill stations, beautiful backwaters and interesting wildlife sanctuaries. The never-ending beautiful attractions of Kerala enable you to enjoy the company of yourself and forget all the worries of your life.
Why Kerala is Famous for its Tourism?
The state Kerala is a well-known destination for domestic as well as foreign tourists. The long beaches, elegant rivers, charming inland water bodies, misty mountains, soothing greenery and many more make this place more delightful. To experience the breathtaking beauty of lovely beach, visit Kovalam, Fort Kochi, Mararikulam, Cherai, Varkala, Payyambalam, and Shankhumugham. The beauty of lush green and charming hills can be best seen in Wayanad and Idukki. Backwaters are considered as the most important reason to visit Kerala. The backwaters region includes an extensive network of rivers, lakes and canals. There are various popular heritage sites in the state, like Padmanabhapuram Palace, Mattancherry Palace and Hill Palace. In short, each and every place in Kerala will hypnotize you and offer various mesmerizing memories for the lifetime.
Best Kerala Honeymoon This Season.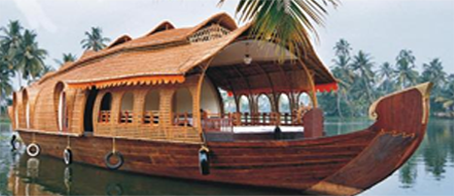 The state Kerala is one of the most beautiful creations of God. This is an ideal destination for the honeymooners as this state is blessed with ample of natural beauties in each and every corner.
Kerala – Destination for Honeymoon Couples
Honeymoon time is a most important time for every couple as it is a beginning of a new life. So while selecting an ideal place for spending honeymoon time, look for the Kerala. This state has everything that couples generally prefer for their honeymoon. Kerala can also be called as an idyllic romantic vacation place. In Kerala, couples can enjoy variety of experiences like pleasant backwaters, stunning beaches, indelible wildlife sanctuary and many more. No matter, whether you are a nature lover or adventure seeker, you will enjoy everything to the fullest. Kerala welcomes you to spend the most important days of your life and you will be assured that you are enjoying the best romantic days you can ever think of.
Best Honeymoon Destinations in Kerala
Some of the popular attractions of Kerala
Striking backwaters: Backwaters are considered as the best place to spend time with the partner around the seawater. Kerala homes some magnificent and tranquil waterways, lakes, rivers, canals, estuaries etc. The network of waterways can be best enjoyed with the houseboats. There is a unique variety of aquatic life including crabs, frogs, kingfishers, mudskippers and many more in the Keralian backwaters. The beautiful backwaters locations are Kollam, Alleppey, Cochin, Kozhikode, Kasaragod and so on.
Amazing wildlife sanctuaries: If you want to enjoy some exotic wildlife sanctuaries of Kerala, then you must visit to Chinnar Wildlife Sanctuary, Eravikulam National Park, Wayanad Wildlife Sanctuary, Periyar Tiger Reserve, Idukki Wildlife Santuary, and Kumarakom Bird Sanctuary. These wildlife sanctuaries offer a huge variety of animals and birds of almost all species.
Stunning beaches: Kerala Beaches are full of calm, quiet and scenic beauties. The amazing environment of these beaches gives you outstanding pleasure with your partner. Some of the most popular beaches of Kerala are Cherai beach, Marari Beach, Bekal beach, Kappad beach, Meenkunnu Beach, Kovalam beach, Dharmadam beach, Kollam Beach, Fort Kochi beach, Varkala Beach, Beypore beach and Alappuza beach.
Beautiful Hill Stations: Kerala is also well-recognized for its lush green hill-stations. The appealing beauty of these hill-stations attracts large of number of tourists from all over the world. Some of the beautiful hill stations are Munnar, Nelliyampathy, Ranipuram, Peermade, Devikulam, Ponmudi, Idukki, Pythal Mala to name a few.
Why Kerala honeymoon holidays
Every couple wants to get some privacy, luxury and security in their Honeymoon and this can be best served by KeralaHoneymoonHolidays.com. This is a leading portal, offering best ever honeymoon packages in Kerala. Their excellent tourism services satisfied several couples. They understand the value of honeymoon that's why offer various customized packages, amazing hotel locations, best houseboat and backwaters experience and many more to make your honeymoon more enchanting in the God's own country. They offer variety of options to spend this golden period of your lifetime. So, make your honeymoon more romantic and memorable with KeralaHoneymoonHolidays.com.
International Honeymoon Packages