Kollam
About Kollam
Kollam is known for tinged history, stately homes, hospitality and friendly beach communities, situated on the banks of Ashtamudi Lake. Kollam is one of the scenic beaches of Kerala, a perfect honeymoon spot which provides a mystical look. Kollam is familiar for cashew process and fiber producing. It is the perfect pick for hotel lovers. This is the place what honeymoon dreams are made of with over water bungalows, turquoise lagoons and colorful fishes swirling around. Kollam is blessed with various natural gifts like rivers, lakes, canals, beaches, forests and dominant hills. Due to the list of amazing natural beauties, Kollam is called as an important tourist destination in God's Own country.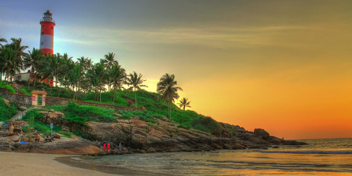 Kollam For Honeymoon Couples
This is the ultimate romantic blush which leads to super luxury, where you find romantic concierge. You will get everything your heart desires from a bottle of wine on the top of the terrace enjoying the mesmerizing view with fireworks. Rooms have views of beaches and crystal clear sea. Kollam is a destination for private spa villa reserved for just one couple at a time for ultimate private paradise.
Best Kollam Honeymoon packages
Kochi-Thekkady -Kochi
Kochi-Thekkady -Thekkady-Kochi
Kochi-Thekkady -Kumarakom-Kochi
Kochi-Thekkady -Aleppey
Kochi-Thekkady -Thekkady-Aleppey
Coimbatore–Kodaikanal-Thekkady
Best Kollam Resorts
Swiss County
Club Mahindra
Tea County
Talltrees
Blackberry
Oakfield
---
Fact Sheet and Climate
Location – Idukki district on the high ranges of the Western Ghats.
Altitude – 5000 to 8000 ft above sea level.
Area – 26.2 Sq kms.
Temperature
Dec, Jan, Feb & Mar : 2C – 27C
Apr & May : 9C – 29C
Jun, Jul & Aug : 14C – 22C
Sep & Oct : 13C – 23C
Nov : 9C – 25
Best time to Visit –
Sep to May.


Monsoon –

July to Aug

Today Weather

29°

light rain

humidity: 73%

wind: 3m/s WSW

H 29 • L 29
---
Accessing Kollam
On the way from Kochi to Kollam
Road – Thekkady is accessible by frequent buses from Ernakulam (near Kochi), Kottayam, Thekkady. Interstate buses runs between Bangalore, Coimbatore, Maduri, Theni, Palani to Thekkady frequently.
Rail – Thekkady is not connected with Rail. Ernakulam 130kms, Kottayam 147km, Madurai 162kms, Coimbatore 158kms.
Air – Nearest Airport Kochi / Cochin 130 kms 4hrs by road. Madurai – 142kms . Coimbatore – 167km. Trivandrum 302km.
---
Places To Visit in Kollam
Major Attractions of Kollam
Thevalli Palace – This palace is located on the banks of Astamudi Lake, you may see the distinctive mix of an ancient monument set throughout a picturesque setting of this palace.
Sasthamkotta – This place is just 29 kms away from Kollam and situated on the bank of watercourse Kallada, that is prominent for Kerala's biggest fresh lake. In this city, there's also a temple dedicated to lord Sastha.
Thangassery – It is situated 5 kms from Kollam city, a coastal village of momentous importance, that has the shells of earlier Portuguese fort and a church, inherent 18th era.
---
Activities to do in Kollam
Swimming is one of most cherishing activities that must do in Kollam. While swimming you will experience the pleasure of rich flora and fauna. A romantic ride in the beautiful backwaters with peaceful and tranquil environs is a best experience for the couples. The delightful setting of the coconut palms gives an amazing look to the visitors. Couples can list for a long cruise through the distinctive back waters of Ashtamudi Lake. This is one of the foremost lovely backwaters in Kollam that provides an amazing ship ride through the long-winded lagoons and rivers.
Shopping is another must do activity while travelling in Kollam. This city is well-known for its cashew nut. If you are going for shopping, don't forget to buy the nuts and spices. Seas shell products and antique items are other important things that should buy in Kollam.
Various mind-blowing experiences in Kollam, make it an ideal place to visit for every type of tourist. Here you can also enjoy the pleasure of adventurous walking along the footpath in landscapes and cliffs.