Kumarakom
About Kumarakom
Kumarakom is a small village, located in the Kottayam district of Kerala. This village has a beautiful bird sanctuary, which is spread around 14 acre area. Kumarakom is situated on the banks of Vembanadu Lake, Meenachil River. This village is also known as ornithologist's paradise. This is one of the most popular tourist destinations in Kerala, which is well-known as an enthralling backwater destination. Kumarakom is known for its unique houseboat, amazing backwater and village culture. Whether you are traveling alone, with your partner, friend or family, Kumarakom will always offer the best experience to each group. Undoubtedly, Kumarakom is a most revitalizing and fascinating paradise in Kerala.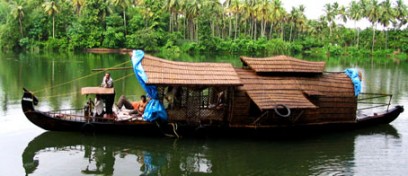 Kumarakom For Honeymoon Couples.
Kumarakom is a fastest emerging paradise for the couples and families to spend amazing time due to its beautiful backwaters, houseboats and so on. The beautiful coconut palms, never ending paddy fields, mangroves nesting birds, and many more are the major attractions of Kumarakom. The heart-touching and eternal beauties of this village will surely make your honeymoon more mesmerizing. You can enjoy plenty of beautiful places around Kumarakom and experience the real beauty of nature.
Best Kumarakom Honeymoon packages
Kochi-Kumarakom -Kochi
Kochi-Kumarakom -Thekkedy-Kochi
Kochi-Kumarakom -Kumarakom-Kochi
Kochi-Kumarakom -Aleppey
Kochi-Kumarakom -Kumarakom-Aleppey
Coimbatore–Kodaikanal-Kumarakom
Best Kumarakom Resorts
Swiss County
Club Mahindra
Tea County
Talltrees
Blackberry
Oakfield
---
Fact Sheet and Climate
Location – Idukki district on the high ranges of the Western Ghats.
Altitude – 5000 to 8000 ft above sea level.
Area – 26.2 Sq kms.
Temperature
Dec, Jan, Feb & Mar : 2C – 27C
Apr & May : 9C – 29C
Jun, Jul & Aug : 14C – 22C
Sep & Oct : 13C – 23C
Nov : 9C – 25
Best time to Visit –
Sep to May.


Monsoon –

July to Aug

Today Weather

30°

scattered clouds

humidity: 78%

wind: 1m/s N

H 30 • L 30
---
Accessing Kumarakom
On the way from Kochi to Kumarakom
Road – Kumarakom is accessible by frequent buses from Ernakulam (near Kochi), Kottayam, Thekkedy. Interstate buses runs between Bangalore, Coimbatore, Maduri, Theni, Palani to Kumarakom frequently.
Rail – Kumarakom is not connected with Rail. Ernakulam 130kms, Kottayam 147km, Madurai 162kms, Coimbatore 158kms.
Air – Nearest Airport Kochi / Cochin 130 kms 4hrs by road. Madurai – 142kms . Coimbatore – 167km. Trivandrum 302km.
---
Important Places to Visit in Kumarakom
Attractions of Kumarakom
Vembanad Lake – The Vembanad Lake is said as a home to many marine and freshwater fish. The varieties of shrimp, prawn and fresh water fish are really bountiful. The Pearl spot fish is said as a local delicacy, which is also found in comparatively lower numbers.
Kottayam – This is an ancient town, popular for its 700 years-old churches. The Cheria Palli is a small church, having a list of lovely paintings. The Ettumanoor Shiva Temple and Thirunakkara Mahadeva Temple are the other most crowded part of this village.
Aruvikkuzhi Waterfalls – This amazing picturesque waterfall is located at 2 km down a mud lane from Kumarakom. This beautiful picnic spot is a home of rare varieties of migratory birds from different parts of the world.
Vagamon – This is an ideal tourist spot, often called as a trekker's paradise. The incredible tea gardens, decent meadows and valleys are found throughout the Vagamon. The other attractions of Vagamon include, Indo-Swiss project, Thangal Para, Kurisumala and so on.
---
Adventure Activities in Kumarakom
The other worth visiting destinations in and around Kumarakom include, Erumely, Aranmula, Vaikom, Elaveezha Poonchira and so on. The main sightseeing options in Kumarakom are Drift wood museum, Kumarakom bird sanctuary, Pathiramanal Island and much more.
Kumarakom is well-known for its backwater boathouse rides so experience this amazing drive with your spouse and spend romantic time in the thrill of water. Kumarakom offers a well-balanced climate throughout the year. There is always a fresh, breeze and cool climate so it can be visited during summers as well. The trivial drizzles during monsoons also offer splendid experiences to its visitors. Winters are also not so chilly. So you can plan your honeymoon at Kumarakom during any time of the year.
This beautiful village offers various leisure options to its visitors like Ayurvedic massage, meditation, yoga, boating, swimming, fishing and much more. If you like to experience a village life, then you must love Kumarakom. Come this nature's land and make your holidays or vaction more cherishing.