Poovar
About Poovar
Poovar is a small coastal village of the district Trivandrum. It is a place where you can enjoy the wonderful beach, lake, sea and river together, which is hardly found in any other place in throughout Kerala. Due to this amazing combination, Poovar is also called as one of the natural wonders on earth. The serene beauty of Poovar can be best realized by the miraculous sound of waves and the birds. Poovar is encircled with peaceful backwaters and a golden sand beach. Basically, it is a fishing village and it can be reached only through water. It is a best place to experience the fluctuations of nature and the harmony of nature.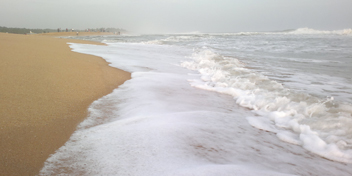 Poovar For Honeymoon Couples.
Couples generally look for the place where they can enjoy the each-others company to the fullest. So if you are dreaming an exceptional honeymoon on a private island, then Poovar will be a right choice for you. Poovar has everything that you expect to spend memorable time together. This breathtakingly beautiful island can be well explained with its well-preserved local flora, exotic flowers, hundreds of species of spices, banana and coconut groves. Really, the unspoiled and virgin beauty of Poovar, make it a favorite romantic destination for the couples. So come here and cherish the best experience for your holidays.
The beauty of Poovar is hard to define in just a few words, it can be experienced in each and every corner of Poovar.
Best Poovar Honeymoon packages
Kochi-Poovar -Kochi
Kochi-Poovar -Thekkedy-Kochi
Kochi-Poovar -Poovar-Kochi
Kochi-Poovar -Aleppey
Kochi-Poovar -Poovar-Aleppey
Coimbatore–Kodaikanal-Poovar
Best Poovar Resorts
Swiss County
Club Mahindra
Tea County
Talltrees
Blackberry
Oakfield
---
Fact Sheet and Climate
Location – Idukki district on the high ranges of the Western Ghats.
Altitude – 5000 to 8000 ft above sea level.
Area – 26.2 Sq kms.
Temperature
Dec, Jan, Feb & Mar : 2C – 27C
Apr & May : 9C – 29C
Jun, Jul & Aug : 14C – 22C
Sep & Oct : 13C – 23C
Nov : 9C – 25
Best time to Visit –
Sep to May.


Monsoon –

July to Aug

Today Weather

31°

scattered clouds

humidity: 50%

wind: 2m/s SW

H 31 • L 31
---
Accessing Poovar
On the way from Kochi to Poovar
Road – Poovar is accessible by frequent buses from Ernakulam (near Kochi), Kottayam, Thekkedy. Interstate buses runs between Bangalore, Coimbatore, Maduri, Theni, Palani to Poovar frequently.
Rail – Poovar is not connected with Rail. Ernakulam 130kms, Kottayam 147km, Madurai 162kms, Coimbatore 158kms.
Air – Nearest Airport Kochi / Cochin 130 kms 4hrs by road. Madurai – 142kms . Coimbatore – 167km. Trivandrum 302km.
---
Important Places to Visit
Poovar Attractions
Poovar Beach – (The most important attraction of Poovar is its beach. This pleasing beach is fringed with the coconut palms. The various beach activities are not so developed here, so you can't enjoy the pleasure of sunbathing and swimming. Nevertheless, you can enjoy the serenity and beauty of this beach. Really, it is a perfect ambience for relaxing and rejuvenating.
Kovalam Beach – If you are crazy about water sports activities, then Kovalam beach is an ideal destination for you. Kovalam is one of the prime beach destinations in the state, located at a few kilometers distance from Poovar. In Kovalam, you can visit three beautiful beaches, Lighthouse Beach, Hawa Beach and the Samudra Beach.
Vizhinjam – Vizhinjam is located near to the Kovalam Beach. Vizhinjam has several internationally renowned beach resorts and Ayurvedic massage centers.
The Fishing Village – The fishing village near Poovar display the living of the fishermen. They completely live the water based life, even their livelihood and transportation also depend on the river and sea. You must visit this village to experience the unique lifestyle of fishermen.
These are some popular destinations around Poovar. So whether you are planning for a family holiday or a honeymoon trip, Poovar has everything to amuse you. In Poovar, you will feel like holidaying at your own private island. It is a place where nature at its best with the endless golden sand, deep blue sea and the wonderful sunset.
---
Other Activities to do in Poovar
There are various activities that one can enjoy in Poovar like, cruising to the Fishing village, boat racing, crocodile watching, Ayurveda treatment and many more. If experiencing the tranquility is your motto for your vacation, then you must plan for Poovar because it is a place where you can enjoy the pleasure of solitary haven. So if you are thinking about the best destination for your honeymoon, then you must think about Poovar.