Thekkady
About Thekkady
Thekkady, located in the district Idukki, is known for the largest wildlife sanctuary of the country. It is a dream destination for the nature lovers and who like to see wild manifestations. Thekkady is called as a pleasant heaven on earth. This is a destination where you can enjoy adventure, wildlife and nature at their best. Thekkady make sure that you will get the best worth of your money. The serene waters, fresh air of the mountains and the fascinating natural beauties are the highlights of this tourist spot. Thekkady is rated as one of the most visited places in Kerala.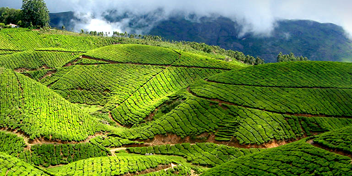 Thekkady For Honeymoon Couples.
Thekkady is recognized as an enthralling plantation town, hill station and wildlife center. It is an amusing paradise that summons beautiful images of elephants, unending chains of hills as well as spice-scented plantations. Thekkady is adorned with the true beauty of nature. It is a reservoir of many rare species and the tropical flora and fauna.No matter whether you are going with your friends, family or spouse, Thekkady will never disappoint you for sure. Time will stand still in Thekkady, so enjoy your honeymoon in Thekkady to cherish this memorable time for the lifetime. So if you are searching any best holiday destination where you can spend good time with your partner then you should visit Thekkady.
Best Thekkady Honeymoon packages
Kochi-Thekkady -Kochi
Kochi-Thekkady -Thekkady-Kochi
Kochi-Thekkady -Kumarakom-Kochi
Kochi-Thekkady -Aleppey
Kochi-Thekkady -Thekkady-Aleppey
Coimbatore–Kodaikanal-Thekkady
Best Thekkady Resorts
Swiss County
Club Mahindra
Tea County
Talltrees
Blackberry
Oakfield
---
Fact Sheet and Climate
Location – Idukki district on the high ranges of the Western Ghats.
Altitude – 5000 to 8000 ft above sea level.
Area – 26.2 Sq kms.
Temperature
Dec, Jan, Feb & Mar : 2C – 27C
Apr & May : 9C – 29C
Jun, Jul & Aug : 14C – 22C
Sep & Oct : 13C – 23C
Nov : 9C – 25
Best time to Visit –
Sep to May.


Monsoon –

July to Aug

Today Weather

27°

broken clouds

humidity: 79%

wind: 2m/s E

H 27 • L 27
---
Accessing Thekkady
On the way from Kochi to Thekkady
Road – Thekkady is accessible by frequent buses from Ernakulam (near Kochi), Kottayam, Thekkady. Interstate buses runs between Bangalore, Coimbatore, Maduri, Theni, Palani to Thekkady frequently.
Rail – Thekkady is not connected with Rail. Ernakulam 130kms, Kottayam 147km, Madurai 162kms, Coimbatore 158kms.
Air – Nearest Airport Kochi / Cochin 130 kms 4hrs by road. Madurai – 142kms . Coimbatore – 167km. Trivandrum 302km.
---
Important Places to Visit
Major Attractions of Thekkady
Periyar Wildlife Sanctuary – Periyar is called as one of the best maintained wildlife sanctuaries in the country. In 1978, this sanctuary is declared as a Tiger Reserve. Periyar Wildlife Sanctuary is covered with the rich greenery that is spread over an area of 777 sq.km. Periyar has a diverse wildlife, including endangered lion-tailored macaques, elephants, Nilgiri Langurs, Indian, bisons, bears, boars, exotic variety of bears and birds. Boating will be an ideal way to explore this sanctuary.
Kumily – Kumily is situated at a distance of around 4 km from Thekkady and on the outskirt of the Periyar Sanctuary. This picturesque town is snuggled in the realms of the majestic Cardamom Hills. Kumily is well-known for the tea and spice plantations, crisp blue skies, mist drenched mountains and the bountiful greenery. This town is considered as a hub of spice trade and a perfect shopping site.
Mangala Devi Temple – This ancient temple is built in the traditional Kerala style of architecture, i.e. Pandian style. This temple is situated at a distance of about 15 km from Thekkady. Mangla Devi Temple opens for the visitors on the festive day of Chithira pournami only. Pilgrims offer their pooja to the deity Mangala devi. The panoramic views of nearby areas of this temple can be seen from the cliff. The prior permission is essential to visit this place from the Wildlife Authorities, Thekkady.
---
Adventure Activities in Thekkady
The other major attraction near Thekkady include, Vandiperiyar, Chellarkovil, Pullumedu, Vandanmedu, Ramakalmedu and so on.
If you are an adventure seeker, Thekkady will be an ideal place for you. Here you can enjoy various options like bamboo rafting, rock climbing, Bullock Cart rides, Jungle Camps, Trekking and Mountaineering, Boating and Fishing, Bicycle rides and much more. The natural habitat of Thekkady gives you a wonderful chance to spot droves of elephants and other big animals like bisons, deer and many more. So if adventure is your catchphrase, then Thekkady is all yours. Enjoy bevy of interesting activities in Thekkady.