Vagamon
About Vagamon
Vagamon is one of the most beautiful hill stations of the state Kerala. This hill station is blessed with a series of hillocks, valleys as well as stunning waterfalls. This is an ideal getaway for all sorts of tourists whether you are hunting any honeymoon destination or any adventurous site; Vagamon has everything to fulfill your desires. This verdant spot is also known as a tiny plantation town. The never-ending lush green hills and magnificent ravines make it a perfect tourist place. The green tea gardens, fresh breezy air, amazing waterfalls, and many more add-on in the beauty of Vagamon hill station.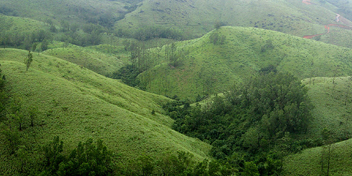 Vagamon for Honeymooners
Hill stations are always said as a most preferred choice to spend honeymoon. Couples generally look for the cool breezy air, natural green surroundings and peaceful environment in their honeymoon and all these can be best availed in Vagamon hill station. Walking with the partner along the narrow and zigzag roads will surely give you a blissful experience.
Vagamon offers unique and special environment with the abundant natural beauty that can be rarely seen in any other hill station of Kerala. This enchantingly beautiful land offer so many delightful experiences that you will cherish for the lifetime.
Best Vagamon Honeymoon packages
Kochi-Thekkady -Kochi
Kochi-Thekkady -Thekkady-Kochi
Kochi-Thekkady -Kumarakom-Kochi
Kochi-Thekkady -Aleppey
Kochi-Thekkady -Thekkady-Aleppey
Coimbatore–Kodaikanal-Thekkady
Best Vagamon Resorts
Swiss County
Club Mahindra
Tea County
Talltrees
Blackberry
Oakfield
---
Fact Sheet and Climate
Location – Idukki district on the high ranges of the Western Ghats.
Altitude – 5000 to 8000 ft above sea level.
Area – 26.2 Sq kms.
Temperature
Dec, Jan, Feb & Mar : 2C – 27C
Apr & May : 9C – 29C
Jun, Jul & Aug : 14C – 22C
Sep & Oct : 13C – 23C
Nov : 9C – 25
Best time to Visit –
Sep to May.


Monsoon –

July to Aug

Today Weather

24°

overcast clouds

humidity: 95%

wind: 1m/s ENE

H 24 • L 24
---
Accessing Vagamon
On the way from Kochi to Vagamon
Road – Thekkady is accessible by frequent buses from Ernakulam (near Kochi), Kottayam, Thekkady. Interstate buses runs between Bangalore, Coimbatore, Maduri, Theni, Palani to Thekkady frequently.
Rail – Thekkady is not connected with Rail. Ernakulam 130kms, Kottayam 147km, Madurai 162kms, Coimbatore 158kms.
Air – Nearest Airport Kochi / Cochin 130 kms 4hrs by road. Madurai – 142kms . Coimbatore – 167km. Trivandrum 302km.
---
Some Important Places to Visit in Vagamon
Vagamon has numerous beautiful places to visit but the chain of three most important hills named as Kurismala, Thangal hill, and Murugan hill, cannot be avoided while visiting Vagamon. The presence of these hills gives an appealing feel to this stunning hill station. Here is a brief description of these hills and other charms of this hill station:
Kurisumala – Basically, it is a Christian pilgrim center but tourists from all over the world and religion come here to visit this hill. Kurisumala is one of the most beautiful tourist's spots of Vagamon.
Thangal Para – This hill is situated at five kilometers distance from Vagamon. If you take down the Elappara route, you will directly reach to Thangal Para. This place has a greater significance for the Muslims and there is one popular Durgah of a Sufi Saint, Husrath Sheikh Fariduddin Baba.
Murugan Mala – Murugan Mala lies east of the Kurisumala. This hill houses a rock-cut temple which is dedicated to Lord Murugan. Every year thousands of devotees visit this place and express their prayers to the God Murugan.
Waterfalls – Vagamon has several waterfalls which all are surrounded with the grassy hillocks. The steep hill area provides easy access to the waterfall area, where you can enjoy rain, wind and endless views of hillscapes.
Pine Forest – If you are looking for a place where you can enjoy good privacy in the natures lap, and then visit Pine forest. This is a place where you can forget everything that you have had in your life. You will enjoy the eternal blissful environment in this forest.
In addition to these places, honeymooners or anyone else should also visit some other charms of Vagamon like, Green meadows, Rocky out crop, Elaveezha Poonchira, Pattumalai Church, Idukki Arch Dam, Kuttikanam Palaces and so on.
---
Activities to do in Vagamon
Vagamon is an ideal tourist adventure spot enclosed by the greenery of tea gardens, deep puzzling valleys and beautiful meadows. The most desired destinations for the adventure enthusiasts are Thangal Para, Kurisumala, and the Indo-Swiss Project. Paragliding is one of the most important activities that every adventure-seeker loves to do and Vagamon offers a good opportunity to experience paragliding. Other adventurous activities include Horse riding, trekking, campfire, boating, fishing and many more.
Vagamon really has everything that makes your trip more memorable and enchanting. So visit this beautiful hill station to experience the greater peace of mind in the natures lap.