Varkala
About Varkala
Varkala is one of the popular destinations to visit for a holiday. This town is located in the southern state of Kerela and is the only coastal spot in South Kerela with cliffs adjacent to the Sea. The serene beauty of Varkala is lined with the amazing hills and beautiful coconut groves. This spot offers the pleasures of the best backwaters and beaches that Kerela has to offer. When the Arabian sea meets the cliffs of Varkala, the nature comes alive.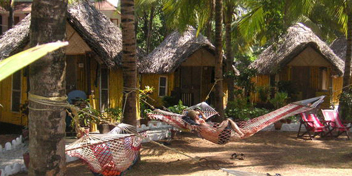 Varkala As A Honeymoon Destination
Kerela is one of the most popular romantic destinations in India. The romantic resorts, backwaters, beaches and hill stations are all present in Kerela. The romance, especially blossoms to the infinite in a location like Varkala with the sound of sea waves hitting the rocky shore, sunsets above the ocean, the serenity of the land and sea and delicious seafood. The location has incredibly beautiful views of green belts with tropical plants and the hills overlooking the ocean.
The breathtaking sunsets, mineral water springs and spas on the side of the cliffs are a getaway for couples looking for solace and cherishable experiences. The adventurous activities like parasailing, paragliding and water sports are also an experience for couples to indulge in. The beach is exotic and will offer romantic getaway.
The restaurants here offer fresh and delicious seafood and mouth savoring delicacies. Overall, it is an ideal place for the romantic couples as Varkala makes you away from the cities rush and crowd so you can enjoy the good time with your partner.
Best Varkala Honeymoon packages
Kochi-Thekkady -Kochi
Kochi-Thekkady -Thekkady-Kochi
Kochi-Thekkady -Kumarakom-Kochi
Kochi-Thekkady -Aleppey
Kochi-Thekkady -Thekkady-Aleppey
Coimbatore–Kodaikanal-Thekkady
Best Varkala Resorts
Swiss County
Club Mahindra
Tea County
Talltrees
Blackberry
Oakfield
---
Fact Sheet and Climate
Location – Idukki district on the high ranges of the Western Ghats.
Altitude – 5000 to 8000 ft above sea level.
Area – 26.2 Sq kms.
Temperature
Dec, Jan, Feb & Mar : 2C – 27C
Apr & May : 9C – 29C
Jun, Jul & Aug : 14C – 22C
Sep & Oct : 13C – 23C
Nov : 9C – 25
Best time to Visit –
Sep to May.


Monsoon –

July to Aug

Today Weather

32°

light rain

humidity: 75%

wind: 4m/s SW

H 32 • L 32
---
Accessing Varkala
On the way from Kochi to Varkala
Road – Thekkady is accessible by frequent buses from Ernakulam (near Kochi), Kottayam, Thekkady. Interstate buses runs between Bangalore, Coimbatore, Maduri, Theni, Palani to Thekkady frequently.
Rail – Thekkady is not connected with Rail. Ernakulam 130kms, Kottayam 147km, Madurai 162kms, Coimbatore 158kms.
Air – Nearest Airport Kochi / Cochin 130 kms 4hrs by road. Madurai – 142kms . Coimbatore – 167km. Trivandrum 302km.
---
Important Places To Visit in Varkala
Major Attractions of Varkala
Varkala offer list of places to visit but here we mention some of the places that should not miss while travelling in Varkala.
The Janardana Swami Temple – This temple is believed to be about 2,000 years old and said as a a Vaishnavaite shrine in India. The architecture of this temple is in South Indian style.
Sivagiri Mutt – It is another pilgrimage center in Varkala, situated on the banks of the Thiruvananthapuram-Shoranur canal.
Ponnumthuruthu Island – This wonderful getaway is also called Golden Island, surrounded by the thick coconut groves.
Anjengo Fort – It has rich historical importance as well as beautiful natural settings. Tourists can also find the remnants of old English fort.
Varkala Tunnel – It is a 924 ft long tunnel, built in 1867. It was made to overcome the difficulty of transportation system through the network of backwaters.
In addition to these places, the Varkala lighthouse, Papasnanam beaches, Kappil Lake and so on are the other highlights of Varkala. The serenity and beauty of this place, make it one of the most visited destinations in the state Kerala.
---
Activities to do in Varkala
There are a number of spa and yoga retreats in Varkala as well as some Ayurvedic centers. There are various specialty shops and art galleries that can also be visited while here. The CanFly – stand up paddle is one spot that has all one can indulge in terms of adventure and water sports. Other activities in Varkala include surfing, soaking and sightseeing. Most of the beach resorts offer rejuvenating massage so you can also get relaxed and chilled out. If you are looking for snorkeling, then you should go to Papanasham beach or Thiruvambady beach. If you love shopping, then you may disappoint inn Varkala as there are no shopping malls, but you can buy some traditional handicrafts and artifacts in the little shops of Varkala. Other popular items that you may buy are tea, coffee, spices, horn carved products and coconut shell items.
In short, Varkala offers everything that you wish from your trip. Varkala is a bucket of amazing places to visit and to do activities so enjoy this place to the fullest.