Isola Di Cocco
Poovar Post Office, Trivandrum.
Room Tariff Now –
4000 + 19.92 %
Check-in/out time
Check-in Time: 02:00 P.M.
Check-out Time: 11:00 A.M.
Type of Rooms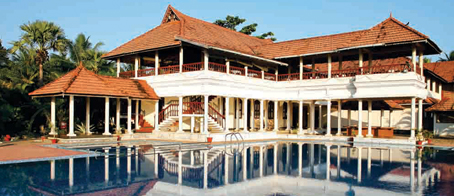 Excerpts are optional hand-crafted summaries of your content that can be used in your theme.
Hotel Facilities
Minibar
Tea / Coffee Maker
Bathroom Kit
Satellite Television
Rs 3200
Incl all tax + B/F
Room Facilities
Minibar
Hair Dryer
Tea /Coffee Maker
Bathroom Kit
Free Min Water
Satellite Television
Bath Tub / Jacuzzi
Hotel Facilities
Laundry Service
Ayurveda & spa Centre
Health Club
Doctor on Call
Swimming Pool
Bar
Car Parking
Internet / Wi Fi
Restaurant & Dining
Room Services
Conference Facilities
Isola Di Cocco Map
Address:
Isola Di Cocco
Poovar Post Office.
Trivandrum – 695525
Kerala
Phone Number:
+91 471 221 0008
+91 471 221 0800
+91 471 221 0918
About Isola Di Cocco
The Isola Di Cocco ("The Island of Coconuts"), a unique heritage resort cosseted by a coconut grove, residing on the banks of the river Poovar, at the juncture where the tranquil river embraces the roaring Arabian sea!
Isola Di Cocco is tucked away in the southwestern tip of India in the State of Kerala – the internationally renowned tourist destination (projected as one of the 50 best "must see destinations" in the world by the National Geographic Traveller Magazine).
FACILITIES
The Isola di Coco Beach Resort provides all the modern amenities of a well-appointed hotel. From 24-hour room service, travel desk, currency exchange, laundry, doctor on call, to air-conditioning, television, direct telephone, Internet access in the rooms, it is a complete luxury stay at the resort. The hotel has a world-class business center. That provides standard conferencing and standard banqueting facilities to make corporate holidays a memorable experience.
Activities
The Isola di Coco Beach Resort has an authentic Ayurvedic Health Center where you can refresh your senses, mind, body and soul through numerous ayurvedic massages and healthcare therapies of centuries old medicinal science of ayurveda. The BELA type of ayurvedic practice is followed at the resort. For the brave hearts and the adventure spirited lot, there are exciting and thrilling water sports. You can also go for a small meeting with Kerala marine life.
Drinks and Dining
The hotel restaurant serves Mughlai, Chinese and tandoori delicacies. You can savor the multi-cuisine restaurant, overlooking the swimming pool and also the point where two rivers meet. The open-air restaurant provides the guest with a chance to try Thai, Chinese and European cuisines along with gazing at the beautiful sea view.
Standard Rooms
Modern rooms with traditional carved wood furniture. All rooms have a 'verandah' which faces a delightfully laid out, well-landscaped exotic garden. Spread out in clusters, the rooms face the exotic garden. CCTV, Telephone, Mini fridge etc.En-suite Bathroom with 24 hrs running hot & cold water.
Heritage Rooms
Heritage rooms are wooden paneled with teak or rosewood. Each room can trace its lineage to ancient traditional houses of Kerala. CCTV, Telephone, Mini fridge etc. En-suite Bathroom has open roof design – with the sky as the roof,24 hrs hot and cold running water, 24 hrs Room Service.
Suites
Each suite has a Verandah, a living room, a bedroom and an open-to-sky modern bathroom. These suites are centrally air-conditioned. CCTV, Telephone, Mini fridge etc. En-suite Bathroom with an open roof design – with the sky as the roof. It has 24 hrs hot and cold running water. 24 hrs Room Service
Travelers Reviews
Near by hotels