Poovar Island Resort
Pozhiyoor, Trivandrum.
Room Tariff Now –
Rs 9000
Check-in/out time
Check-in Time: 12:00 P.M.
Check-out Time: 11:00 A.M.
Type of Rooms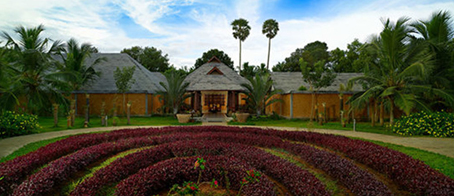 Excerpts are optional hand-crafted summaries of your content that can be used in your theme.
Hotel Facilities
Minibar
Tea / Coffee Maker
Bathroom Kit
Satellite Television
Rs 9000
Incl all tax + B/F
Room Facilities
Minibar
Hair Dryer
Tea /Coffee Maker
Bathroom Kit
Free Min Water
Satellite Television
Bath Tub / Jacuzzi
Hotel Facilities
Laundry Service
Ayurveda & spa Centre
Health Club
Doctor on Call
Swimming Pool
Bar
Car Parking
Internet / Wi Fi
Restaurant & Dining
Room Service
Conference Facilities
Poovar Island Resort
Address:
Poovar Island Resort
K.P. VII/911, Pozhiyoor,
Trivandrum – 695513
Kerala
Phone Number:
+91 471 221 2068
+91 471 221 2069
+91 471 221 2073
About Poovar Island Resort
When you are looking for a hidden holiday, here is how to find it – get out of this world, come to Poovar Island Resort. Located on the backwaters, the resort offers you total privacy on this naturally secluded land. It's different, depending on your preference, you have the choice to stay in Deluxe Floating Cottages, Eco Floating Cottages or Superior Land Cottages. Catch the clear view to the shimmering Arabian sea, kerala backwaters and the river of Poovar without sweeping your glance. Enjoy your dream holiday in a hideaway nestled around natural beauty.
FACILITIES
Pamper your Palate with Pleasure.
Of course, Poovar Island Resort also offers all the other trappings you would expect from a leisure holiday. Here, the culinary treats conjured up by master chefs evoke passions. Every meal is a feast fit for the gods. As for ingredients, nothing less than the very best will do, fresh catch from the sea, exotic spices, orchard-fresh fruits and vegetables.
The multi-cuisine restaurant 'Tiffins' offers a delectable choice of Continental, Asian, Indian and Kerala cuisine to choose from. After all variety is the spice of life, isn't it? At 'Tiffins' we take pride in the state of the art kitchen we have installed. It is an ideal venue to satiate every gastronomic need.
For a quite romantic dinner we have 'The Fish Market' – Our specialty sea food floating restaurant famous for its desirable cuisine. The restaurant is open for dinners only and serves a wide variety of sea-food specialties in tradtional kerala style preperations or continental style.
Lift your spirits at the Sunken Bar
Poovar Island Resort has a special sunken poool bar at the Swimming pool. Enjoy your favourite drink, beverage or fruit juices while on swim. The Kid's Pool, alongside the main Swimming Pool is a sure dive for the water fun.The extensive green landscape, dotted with palm trees, offer avenues for private enjoyments outside your cottages.
Watersports facilities, indoor games, cookery classes, outdoor barbecue can add upto your holiday experience at Poovar. A special boutique shop showcasing indigenous arts and crafts is a most convenient place to catch upon for souvenir hunting. Typical kerala artefacts, woodcarvings, handicrafts, Shawls, blankets, jewelleries are some of the favourite picks at this boutique shop.
Tour/ Travel Facilities
Sightseeing trips to Trivandrum and other tourist places are arranged on request. Visits to local villages, fishing places, boating on country boats or motor boats around the Poovar River, sunset cruises will leave an indelible memory of your sojourn.
Travelers Reviews
Near by hotels